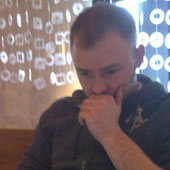 Terry Myers, Chief Evangelist at VPS.NET
HostSearch interviewed Terry Myers, Chief Evangelist at VPS.NET - a leading high performance Cloud hosting company.
HOSTSEARCH: Terry, thank you very much for giving us an opportunity to talk with you today. Can you please tell us briefly about your background?

TERRY MYERS: I got started in hosting in the early 2000's; I transitioned into finance for a few years, but returned to my true love in 2010, when I started my role with VPS.NET as the Chief Evangelist.

HOSTSEARCH: What is your current role at VPS.NET as Chief Evangelist?

TERRY MYERS: As the Chief Evangelist my goal is to be available to the VPS.NET community, whether it be showing our customers a good time at conferences, or making sure they have the perfect solution for their hosting needs. On a given day, I usually find myself sending dozens of emails, even more tweets, and even taking a few calls.

HOSTSEARCH: What kind of services does VPS.NET offer to the customers?

TERRY MYERS: VPS.NET was one of the first cloud hosting providers available to the mass market. Our first product available was our cloud server, which works a lot like a VPS, only significantly more scalable and reliable. Cloud server customers are able to scale up to 24 GHz of CPU and 16 GB of RAM, all of which is guaranteed to be available for use. There's absolutely zero overselling with our cloud servers; further, because of our cloud infrastructure, the risk of downtime is minimized, as if a single server fails in the cloud, the other servers simply take over the work it was doing.

We also offer a product called cloud hosting, which works a bit more like a shared hosting account. It has all the features you're used to with the cPanel control panel, however it is based on our cloud infrastructure that powers our cloud servers. Where this is advantageous is if a single website on the server starts to receive a significant amount of traffic, we can simply add more resources to the cloud, and no sites ever go down. It basically brings the best of both worlds – the affordable price of shared hosting, while having the scalability and reliability of the cloud.


HOSTSEARCH: That's interesting. Please tell us more about Cloud Infrastructure that you're building.

TERRY MYERS: We start off with locations in London, England and Salt Lake City, Utah. Since then we've expanded to a total of 13 locations, with 6 in the United States, 2 in the United Kingdom, 3 in Europe and 2 in Asia. All of our locations can be used by our cloud customers, and at the same flat rate, meaning there is no surcharge for any of the locations. The 13 locations makes us the largest cloud provider, and offers a truly global footprint for our customers.

HOSTSEARCH: What is the Geo Hosting? What is the special about this?

TERRY MYERS: Geo Hosting is the latest product from VPS.NET. It combines shared hosting, with a CDN, replicating your content through multiple locations around the world. This means that your data will be served faster, and also with better reliability, as the locations are completely independent from one another. If one goes down, the other still remains online.

HOSTSEARCH: How will growth in demand for virtualization and cloud computing solutions compare to traditional hosting offerings like dedicated servers and shared hosting?

TERRY MYERS: We expect to see that as the cloud market continues to mature, that traditional offerings like shared hosting, and dedicated servers will experience as a decreased in demand.

HOSTSEARCH: What is it that makes VPS.NET a competitive company in the Cloud hosting market?

TERRY MYERS: VPS.NET has a couple of unique selling points – not only do we lead the market in locations, with 13, but we also have technologies in place that allow for immediate auto scaling, without reboot, along with having the ability to do SSD powered cloud servers, which work tremendously well for database applications.

HOSTSEARCH: Which new technologies and practices do you think make storage and computing in the cloud possible?

TERRY MYERS: Virtualization has been around for a long time, but the layers that sit on top of the virtualization have improved greatly in the past 12-24 months. Tools like OpenStack and OnApp truly have enabled providers like VPS.NET to offer a diverse feature set with their open APIs..

HOSTSEARCH: In your opinion, what makes a good Cloud hosting? It would be great if you can tell us some key points when it comes to picking up the right Cloud hosting.

TERRY MYERS: One of the most important features of the cloud is the ability to scale resources as needed, so I think that is one of the key points. Find a provider that is able to allocate the necessary amount of resources for your needs, as you don't want to overpay by having too many resources, but you also don't want to run into resource restrictions.

Secondly, I'd look at the locations available – you and your users will want the fastest loading times possible, and the locations of the datacenters available are big determining factor in that.

Finally, be certain that their team is right for you. Finding a provider that has the right attitude and capabilities for your needs is extremely important. If they're not able to properly understand your needs, it could be a huge downfall for your business.


HOSTSEARCH: Well, we look forward to see your success in the coming years. Thanks again for giving us an opportunity to talk with you today.

TERRY MYERS: I really appreciate the opportunity to do the interview and would be happy to meet with you guys any time.