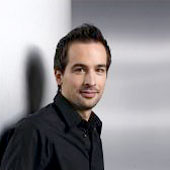 Christoph Berger, Owner at intergenia AG
HostSearch interviewed Christoph Berger, Owner at intergenia AG - an organisation which organized WorldHostingDays Events.
HOSTSEARCH: Christoph, thank you for giving us an opportunity to talk with you today. Can you please introduce yourself to our visitors?

CHRISTOPH BERGER: I am one of the founders of German intergenia AG and – amongst other things – responsible for sales at the world's largest hosting event, our WorldHostingDays.

HOSTSEARCH: Can you please tell us more about the company - intergenia AG?

CHRISTOPH BERGER: intergenia organizes the WorldHostingDays. As a supplier of professional webhosting and server solutions with our brands PlusServer, serverloft and SERVER4YOU, we know the web hosting industry quite well. That's why we understand the demands that companies and visitors have regarding a webhosting event.

HOSTSEARCH: Why did you start WorldHostingDays and how long has this been going on?

CHRISTOPH BERGER: Back in 2004 WorldHostingDays was first thought to be a small industry gathering with about 100 attendees. The feedback we got for our first event was very positive and so we did a second event in March 2006. Since then the event is growing and growing and was held annually every March. In 2010 we decided to take the next step. We wanted to organize the first event outside of Europe – WHD.asia in Bangkok.

HOSTSEARCH: As we know that this is the first time of WorldHostingDays in Asia (WHD.asia), why do you choose Bangkok, Thailand as an event's location?

CHRISTOPH BERGER: Bangkok offers a very good infrastructure and can be reached quite easily, because its airport is frequently approached by many airlines from all over the world, and also the low-cost airline Air Asia. And with the Millennium Hilton Bangkok we found a very good Hotel as venue for our event.

HOSTSEARCH: How do you see the Asian Hosting market growing in the near future?

CHRISTOPH BERGER: We have seen a lot of interest from our partners in the Asian market as its growth rates in the last years have been quite high. Our partners and we also expect great growth in the next few years.

HOSTSEARCH: What were the benefits for visitors from attending WHD.asia?

CHRISTOPH BERGER: WHD.asia were the perfect opportunity to get in contact with important industry colleagues from international ICT companies. The WorldHostingDays Asia gave all visitors the chance to make promising business contacts, explore new markets, and get many inspirations from inventive companies and personalities.

HOSTSEARCH: Can you please tell our visitors about the next WorldHostingDays Event, when and where?

CHRISTOPH BERGER: The next WorldHostingDays event will be our tour through Europe this autumn, called WHD.local. The next main WorldHostingDays event – from now on called WHD.global – will take place March 20-23 at Europa-Park, Rust, Germany.

HOSTSEARCH: How do you see the web hosting industry trend going?

CHRISTOPH BERGER: More and more cloud offerings are still coming up, web hosting companies in a lot of countries and regions are still growing rapidly - I think that this are just two good examples of what we will see in the future. There will be a lot of growth and a lot of innovations that we will see in the web hosting industry in the next few years.

HOSTSEARCH: Thanks again for your time. Our HostSearch team has visited WHD.asia, we greatly appreciated your event and look forward for WorldHostingDays to come back to Bangkok again.

CHRISTOPH BERGER: It was a pleasure speaking to you. We will be back to Bangkok with WHD.asia next year. As soon as we have more information about WHD.asia 2012 we will publish it on our website. Just check our homepage at www.worldhostingdays.com/asia for more details.