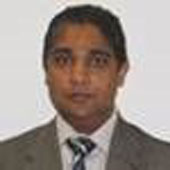 Adnan Raja, Marketing Director of Atlantic.Net
HostSearch interviewed Adnan Raja, Marketing Director of Atlantic.Net - a market-leading Cloud Hosting Solutions Provider recognized for providing exceptional business hosting service since 1994.
HOSTSEARCH: Adnan, thank you very much for giving us an opportunity to talk with you today. As the Marketing Director of Atlantic.Net, could you please tell us more about yourself and your vision for the company?

ADNAN RAJA: I have a Master's degree in Business Administration and more than a decade of experience working in this field. I initially joined Atlantic.Net in 2000 as a Product Manager and now, as you know, I am the Marketing Director. At Atlantic.Net, our goal is to help our clients save time, effort, and resources by helping them operate their business more efficiently. We consider ourselves pioneers in providing the next generation of computing services and we foresee ourselves leading the way into becoming the "go-to" company for our clients' business hosting needs and much more.

HOSTSEARCH: Are there any other comparable products currently offered by competitors?

ADNAN RAJA: Yes - Amazon.com, which is primarily an online retailer, also offers cloud hosting.. Our servers can be provisioned in seconds unlike many other cloud servers that take much longer to provision. We also provide 100% memory allocation and per second billing, which can save a lot of money for large server deployments.

HOSTSEARCH: What does cloud computing mean to Atlantic.Net?

ADNAN RAJA: In the simplest terms, cloud computing is the latest and greatest way for an individual or organization to store, share, and protect data. Cloud computing is clearly not just a passing fad. It has already drastically changed the way we use the Internet and has revolutionized the way businesses address their server and computing needs, eliminating the time and expense formerly associated with server management and provisioning.

HOSTSEARCH: Which virtual technologies are you using

ADNAN RAJA: We are utilizing a variety of virtual technologies, depending upon our custom hosting solutions. Our cloud is built from the ground up on KVM. However, we also provide custom virtualization hosting service, which can include a hypervisor of our customer's choice such as HyperV, VMWare, KVM or Xen.

HOSTSEARCH: What new features has Atlantic.Net added for its customers?

ADNAN RAJA: Here at Atlantic.Net, we always have a number of new features in development. The most recent feature we have announced is a new self-service Free Cloud DNS management feature designed to increase efficiency by offering self-service DNS record management for controlled domain names and DNS PTR records for Atlantic.Net-owned Cloud IPs.

HOSTSEARCH: Do you offer a money back guarantee?

ADNAN RAJA: At Atlantic.Net, customer satisfaction is our main focus. That's why every cloud hosting plan that we offer comes with a money back guarantee. If, for any reason, our customers are not completely satisfied with their cloud hosting plan, they will be refunded the full monthly fees for their cloud hosting plan excluding setup fees, overages, and domain registration.

HOSTSEARCH: Let's talk about the company's data centers. Do you own your own data centers, and where are they located?

ADNAN RAJA: We own and operate our own data center in Orlando, Florida and our facility offers state-of-the-art redundant systems, guaranteed power, temperature/humidity control, and security. Our data center infrastructure is fully audited and SSAE 16 (SOC 1) TYPE II (Formerly SAS 70) certified.

HOSTSEARCH: What kind of support should Atlantic.Net customers expect?

ADNAN RAJA: Customer satisfaction is, always has been, and forever will be paramount at Atlantic.Net. We offer 24/7/365 support for our hosting services. Our clients and affiliates know they can rely on our support and services to make their businesses grow and prosper.

HOSTSEARCH: In your opinion, what are the upcoming cloud trends? Please share with our visitors your prediction in 2013?

ADNAN RAJA: The simple truth is that cloud services are growing in adoption and delivering positive results by those who use them. I predict a substantial move to the cloud by corporate IT, which we can already see happening as IT spending is being shifted from on-site data centers to cloud providers, who can help companies spend less through a cloud solution or colocation.

HOSTSEARCH: Well, thank you very much for your time today. We look forward to see your success!

ADNAN RAJA: Thank you!