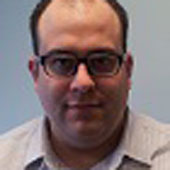 Anthony Levesque, Sales Director at GloboTech Communications
HostSearch interviewed Anthony Levesque, Sales Director at GloboTech Communications - one of Canada's most reliable hosting providers with a wide range of service and solutions.
HOSTSEARCH: Anthony, thank you very much for giving us an opportunity to talk with you today. Please tell us a bit about your background and what you did before joining GloboTech Communications.

ANTHONY LEVESQUE: Hi, Thank you for this opportunity.

Before starting to work with GloboTech Communications 5 years ago, I worked for one of the largest neutral data centers in Montreal. I have always been attracted to the technical aspects of today's business world and working in an IT environment really helped me gain technological knowledge which still serves me today.

As the Director of Sales of GloboTech Communications, my role is to ensure that our customers have a pleasant hosting experience from pre-sales to after-sales support.

HOSTSEARCH: Could you give us an overview of GloboTech Communication's service?

ANTHONY LEVESQUE: GloboTech Communications has been providing its customers with a wide range of web hosting services since 1999. We assist our customers with solutions including: Dedicated Servers, Server Co-Location, Private and Public Cloud, Server Management, Advanced Hosting solutions, DDoS Protection and IP Transit.

With an emphasis on offering managed infrastructure, we can also help our customers in building, managing and supporting their infrastructure.

HOSTSEARCH: Can you please tell us about the NETDefender DDoS? And what are the benefits of this service?

ANTHONY LEVESQUE: NETDefender is an advanced Proxy DDoS Protection service we offer to anyone who needs to protect their website(s) against DDoS attacks. This service is offered in collaboration with ZEN Network Technologies, one of the leading forces in DDoS Mitigation.

In addition to NETDefender, we also offer native DDoS Protection that can be setup with any of our dedicated servers, which provides our customer with an extra layer of security when they need to stop ICMP, SYN or UDP Flood.

HOSTSEARCH: How does your DDOS protection service differ from other companies in the market?

ANTHONY LEVESQUE: Over the last decade, we have developed an expertise when it comes time to stop DDoS attacks. With DDoS attacks occurring much more frequently, and with much bigger magnitude and sophistication, we believe that this will be the next big security challenge in the hosting community.

We have a team dedicated to research and development working on counter measures against new type of DDoS attacks.

HOSTSEARCH: As the data of the customers are valuable, what are the Backup Solutions that you provide to the customers?

ANTHONY LEVESQUE: We offer limited backup space for free with any of our dedicated servers, so our clients can back up their data whenever and if needed. In addition to that, we offer a managed backup solution, which our support team manages for the client to give them peace of mind. This adds another important layer of protection for the customer's data.

HOSTSEARCH: What the advantages for you is being based in Canada?

ANTHONY LEVESQUE: Being located in the eastern part of Canada, offers us a great geographical advantage. We have excellent routing all over North America and Europe which allows the company to have a centralized point of services to serve their customer base.

The cooler Canadian climate and the low electricity cost also allow us to offers very good pricing. As we only use renewal energy, we also offer a greener alternative.

HOSTSEARCH: As you are a Sales Director at GloboTech Communications, how do you differentiate your products in a competitive market?

ANTHONY LEVESQUE: We strive to offer a personalized pre and after sales experience to our customers. We want to assist them in making the best choice of services and help them grow their business. We are very support-oriented and we think that each customer deserves our full attention.

HOSTSEARCH: In your opinion, what makes a good Cloud hosting? It would be great if you can tell us some key points when it comes to picking up the right Cloud hosting.

ANTHONY LEVESQUE: There are a few very critical points to keep in mind when building a cloud. Since Cloud Hosting relies on a centralized infrastructure, it is very important to select the right equipment but also to rely on the right technological partners. With DDoS attacks on the rise, it is also very important to have an infrastructure and a support team that are very well versed in that domain. This will prevent catastrophic events when a single user is targeted. In addition to having a robust infrastructure, security is very important since your customer's data integrity and availability is most important.

Choosing the right Cloud Hosting partner isn't very different from building one. You need to make sure the company you selected has built a fully redundant environment and doesn't over-sell their infrastructure. Don't be afraid to ask them questions, especially about security and their support.

HOSTSEARCH: You said that GloboTech Communications takes its network very seriously, how do you differentiate yourself from other hosting companies?

ANTHONY LEVESQUE: GloboTech Communications network is designed to offer 100% Network uptime. To achieve this goal every day, we abide by few simple rules:

1. Quality Partners – We have selected premium carrier partners to ensure the best connectivity to our clients

2. Capacity – After carefully selecting our partners, we ensure that we will never oversell our network. We are currently have a capacity of over 100 Gbps and this will only grow in the next few years.

3. Intelligent Routing – Our network infrastructure is constantly monitored and optimized for speed and reliability automatically.

4. Redundancy – Every piece of network equipment put in place is at least doubled for full redundancy.

5. DDoS Protection – In addition to Proxy DDoS Protection services, we offer a native DDoS Protection against ICMP, SYN and UDP flood to our clients. This is a feature that allows clients to stay online while being under attacks.

HOSTSEARCH: What can GloboTech Communications do for the customers who wish to switch from their web host to your company?

ANTHONY LEVESQUE: We offer a full and free migration solution for anyone that wants to migrate away from their current host. Our support team will take every step to ensure a quick and easy migration. After the migration is completed, our staff will continue to support the customer to ensure an enjoyable experience.

HOSTSEARCH: Well, we are looking forward to see your success in the coming years. Thanks again for giving us an opportunity to talk with you today.

ANTHONY LEVESQUE: Thank you. I really appreciate the opportunity to explain what we at GloboTech Communications are all about.