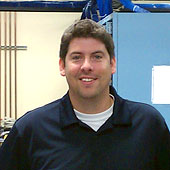 Steve Eschweiler, General Manager at Hivelocity Hosting
We are talking with Steve Eschweiler, General Manager at Hivelocity Hosting - a leading high performance web hosting provider.
HOSTSEARCH: Steve, thank you very much for an opportunity to talk with you today. Can you please give our visitors some background about yourself?

STEVE ESCHWEILER: I received my Bachelor's degree with a major in Business Administration and Business Marketing from The Florida State University in 1997. I have been with Hivelocity since the start in 2001. When I am not on a computer I enjoy fishing, golf and family time.

HOSTSEARCH: Can you tell us a bit about the history of Hivelocity Hosting?

STEVE ESCHWEILER: Hivelocity was founded in 2001 with just 5 employees. Initially we specialized in Shared Reseller Hosting and were one of the very first companies to cater to this market. We found a lot of success within this niche but as our customer's needs grew our hand was forced to start offering dedicated servers. Within a fairly short period of time we found ourselves selling more dedicated servers than shared hosting and the writing was on the wall. At a certain point, around 2004, we shifted focus and made Dedicated Server Hosting our primary offering. We now have over 30 employees, thousands of servers and just opened a brand new data center in Tampa Florida.

HOSTSEARCH: Could you give us an overview of Hivelocity Hosting's products?

STEVE ESCHWEILER: Hivelocity offers a wide range of Dedicated Server and Cloud Hosting solutions, both of which start at $59/month. Truthfully we very much are able to create plans specific to our customers' needs and we have no limitations on what we can offer. We offer servers with 2 cores to 24 cores, 2GB ram to 64GB of ram and up to 48 SATA, SAS or SSD drives. Additionally we offer single VM cloud instances and we offer unlimited VM cloud instances. Whatever a company's need might be we have the solution.

HOSTSEARCH: What technology of hardware and software were used to develop the Cloud environment at Hivelocity Hosting?

STEVE ESCHWEILER: We teamed up with Dell for the hardware needs of our cloud. We have redundant cachecade SAN arrays for high-availability storage needs. Our virtualization technology is based on a variety of industry leading technologies such as Citrix Xen, KVM and VMware. Our cloud management portal includes our App Essentials Store which provides a robust set of apps and OS templates with single click installation.

HOSTSEARCH: Let's talk about the servers and data centers.

STEVE ESCHWEILER: We opened our brand new state-of-the-art data center in Tampa in January of this year. We now have the newest and finest n+1 data center on the east coast. Our facility currently has over 140Gbps dual entry fiber network capacity, 170 tons of n+1 CRAC, 20 minutes of n+1 full load battery time and 2 generators making 2.25 Mega-watts of redundant power.

We purchase all of our servers direct from Dell and Supermicro which allows us to provide a wide array of super reliable server-grade hardware configurations at a very reasonable price.

HOSTSEARCH: What level of support do you provide?

STEVE ESCHWEILER: Our techs are on site 24/7/365 and available to our clients via phone, live chat and trouble ticket. We offer self-managed and fully-managed solutions depending on what level of support a customer might need. Each of our technicians is highly trained and highly skilled and capable of managing or troubleshooting any server.

HOSTSEARCH: How do you see web hosting trend going?

STEVE ESCHWEILER: Certainly virtualization and cloud hosted solutions are where the industry is going. Not only does the cloud allow for ease of scale but our customers also get high-availability, meaning if there is a hardware failure on the cloud, all customer data fails over to other parts of the cloud and the online presence never misses a beat.

HOSTSEARCH: What are the long-term and short-term plans for the company?

STEVE ESCHWEILER: We are just a month or 2 out from introducing what we believe to be the best customer portal in the business. The look, the feel and the capabilities are going to blow away anything the competition is offering. Our programmers and designers all have a background in hosting and have experience with the competition's management interfaces. We took those experiences and said "let's make the best interface around". VPanel is not only going to make the Hivelocity Hosting experience simple and enjoyable, it's going to empower our customers with every tool and application needed to ensure their success. So obviously the introduction of VPanel is one of our short term goals. Our long term goal is to continue improving our Simply Scalable Cloud™ to be the most intuitive and powerful cloud hosting solution available on the market. Cloud hosting is still new to the industry and there are plenty of ways to improve the overall experience.

HOSTSEARCH: What have been the company's key accomplishments?

STEVE ESCHWEILER: We made our first million dollars a long time ago and when we started 10 years ago that was a major goal for us. Today, our focus is on providing our customers with the best customer service and support in the business. In my eyes, our biggest accomplishment is having been consistently recognized for our high level of customer service, growth and reliability by our customers and industry media such as Inc Magazine, Web Host Magazine and Web Host Industry Review. Ultimately, our customers are our business and if we can consistently exceed their high expectations we are accomplishing everything we want.

HOSTSEARCH: Well Steve. Thank you for your time today.

STEVE ESCHWEILER: Thank you very much. It was a pleasure.