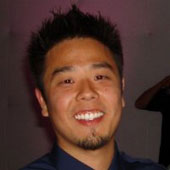 Jason Hong, Partner Channel Specialist at InMotion Hosting
HostSearch interviewed Jason Hong, Partner Channel Specialist at InMotion Hosting - a leading provider of Business Class Web Hosting, VPS Hosting and Dedicated Server solutions.
HOSTSEARCH: Jason, thank you for giving us an opportunity to talk with you today. Can you please introduce yourself to our visitors? How did you join InMotion Hosting and what did you do before?

JASON HONG: Thank you for allowing InMotion Hosting, Inc. to be a part of HostSearch.com. We are excited about the potential your site brings to our efforts. I am the Partner Channel Specialist over here at InMotion Hosting, Inc. I have worked in various roles in the past, from Product Management to International Business Development, all backed with a solid IT foundation as a Systems Analyst for over 7 years. I've come aboard with InMotion's marketing team to develop and nurture relationships with opportunities on all levels.

HOSTSEARCH: Can you please tell us more about the company?

JASON HONG: InMotion Hosting was started back in February of 2001, with offices in Virginia Beach, VA and Los Angeles, CA. Through a dedicated service, our employees average 4 years of experience in web hosting, and are under the backing of the staff that has an average of 11 years worth of experience. Such credentials of the workforce, which was nurtured over the span of 10 years, have made our company a respectable force in the hosting industry.

HOSTSEARCH: What characteristics do you see as InMotion Hosting main strength?

JASON HONG: InMotion is the only hosting company to offer Max Speed Zones. Because we have data centers on both the East and West coasts, our customers will experience speeds up to 6xs faster than other hosting companies. This is inline with our business oriented mentality to make sure things run at optimal speeds. We are the only hosting company to offer this option to customers. Our data centers are also green certified, so that allows us to be environmentally conscious as well.

HOSTSEARCH: What are the main products and services of the company?

JASON HONG: One of the features we offer is the ability to grow with your business as it expands. Other companies may offer just one type of hosting plan. We have a variety of services, from shared hosting, to VPS, all the way up to dedicated servers. So instead of having your business move to another hosting service, we can easily transfer you from one platform to another without any downtime. This is essential to businesses who need flexibility in their hosting environment.

HOSTSEARCH: As the Partner Channel Specialist of InMotion Hosting, can you please tell us how do you market each product and what channels are you using and planning to use?

JASON HONG: Honestly, some of the better known brands use pure marketing to expose their brands, with a lack of customer service. We believe in a better experience for the customer, so our marketing tool has been to provide quality support to the end users. We know that good service is never unrecognized, so we try to have our customers review us on different sites out there to give an honest, unbiased feedback of our services. This has really allowed us to penetrate the market without much exposure via ads and commercials. Now that we have a loyal customer base, you may start seeing us in more places than before, but we will never play a balancing act with our support to achieve this.

HOSTSEARCH: What is your main clients market?

JASON HONG: We are definitely geared towards the small-medium sized businesses, who understand the value in our products and services.

HOSTSEARCH: What is the growth rate you are forecasting for next year?

JASON HONG: We have been growing very rapidly the past few years, so we hope to double our customer base in the coming year. With our exceptional support and staff, we believe people are starting to understand the quality of service we are providing, and word of mouth has been our greatest marketing tool.

HOSTSEARCH: What promotions are currently available? What will you recommend to HostSearch users?

JASON HONG: Currently our award winning business class hosting is offered at a special rate of $5.95/month. We also have a 50% off the first month for all of our VPS hosting services.

HOSTSEARCH: And our final question, what can InMotion Hosting customers expect for next year? Do you plan for any new lines of services?

JASON HONG: We want to be able to provide our customers the top to bottom experience, so we are going to be launching more services and products to our customers so that they won't need to go anywhere else for all of their web site needs. From hosting to design, to implementation and setup, we are going to be the one stop shop for everything. Stay tuned for that.

HOSTSEARCH: Well Jason, thank you so much for giving us an opportunity to talk with you like this.

JASON HONG: Thank you for having me, and we look forward to the opportunities we can develop together.