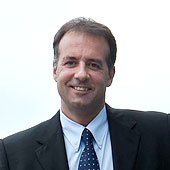 Phil Worms - Director, Corporate Communications at iomart Hosting
HostSearch interviewed Phil Worms - Director, Corporate Communications at iomart Hosting, one of the UK's leading providers of boutique complex managed and cloud hosting services.
HOSTSEARCH: Thank you for giving us the opportunity to talk with you today. Can you please tell us about your role at iomart Hosting?

PHIL WORMS: I am currently responsible for all marketing and public relations for iomart Hosting. The role has two distinct functions, both of which are of equal importance. The first is to build a strong trustworthy brand within our chosen markets and the second is support our sales function, to ensure that the team is sufficiently armed with the tools required to generate business growth.

HOSTSEARCH: How did you join iomart Hosting and what did you do before?

PHIL WORMS: I joined iomart over a decade ago, after moving to Scotland from London where I was Head of Business Development for a US Telco. iomart had just completed its IPO on the London Stock Exchange and was in rapid growth mode, primarily to take advantage of the exciting new world of ecommerce. I joined the company to develop and market its broadband product set or ADSL as it was quaintly known back then.

HOSTSEARCH: Can you please tell us more about the company?

PHIL WORMS: iomart Hosting is part of iomart Group plc which is one of the leading providers of managed hosting and cloud computing services in the UK. In fact iomart was recently named Scottish plc of the Year (we're headquartered in Glasgow in Scotland) and ranked as one of the fastest growing cloud computing companies in the world by Talkin' Cloud. We own and manages five data centers across the UK and iomart Hosting is the main brand that provides bespoke hosting to the enterprise and SME markets.

HOSTSEARCH: What's your best selling product at iomart Hosting?

PHIL WORMS: Although it's not really a product as such, I would state that our best seller is our expertise. We specialize in creating boutique hosting solutions to meet the exact needs of our customers and as such much of our work is consultative. No two customers that we serve have the same hosting requirements. We have been managing complex hosting environments for over a decade. We are not a data centre provider who offers cloud hosting as a 'value added' service. Hosting is, and has always been, our core business. We do actually 'walk the walk'.

HOSTSEARCH: What made iomart Hosting different from others?

PHIL WORMS: We believe that we offer many different attributes to traditional hosting suppliers, from our sales expertise through to our after care account management teams. However the one key differentiator that make us stand out is that we are completely accountable to our clients – the whole 'soup to nuts' service offering if you like. By owning our own data centres and network infrastructure, we are able to manage and deliver the complete set of vertical components from every level of the hosting services stack and more importantly back this off against a cast iron business uptime guarantee. The buck stops and starts with us and our customers like that ownership.

HOSTSEARCH: As your company provides cloud support for UK commercial property management software, can you tell us how this was established?

PHIL WORMS: I think that you are referring to our recently announced relationship with Trace Solutions, who are widely recognised as one of the leading lights in the provision of software systems to the UK commercial property market. Trace Solutions had been using a hosting provider that did not own the data centre it was using and was therefore passing on external costs to its customers whilst not accepting responsibility if things went wrong. A key objective for Trace was finding a company that could guarantee its clients a consistently high quality of service which was fully cloud based and scalable whilst at the same time reducing both costs and their level of risk. As stated previously, it was iomart Hosting's ability to create a solution tailored to Trace's exact requirements coupled with our accountability that won us the deal. You've mentioned Trace specifically but this would equally apply to the majority of our customer base.



HOSTSEARCH: What level of support do you provide? Can you please tell us more about how iomart Hosting supports the customers?

PHIL WORMS: We offer support at every stage of the customer experience lifecycle. At the initial enquiry stages, our sales, pre sales and technical consulting teams are involved in shaping the client's requirements. Once agreed and the deal done, our client is offered migration and project management support all the way through to hand over. Once implemented all client services are monitored and supported by our 24 x 7 NOC teams based in our data centers. Each client is also assigned an account manager who is then responsible for the day to day management of the client relationship. And of course the entire over arching service is backed by our unique 100% uptime guarantee.

HOSTSEARCH: What marketing channel do you use to promote your products and services?

PHIL WORMS: We use a mix of traditional channels – both online and offline but we find that with so many people having differing and conflicting views on cloud hosting, that having the opportunity to discuss it with them face to face works. We therefore run a very vibrant and innovative events and seminars program as our main channel which is very successful. We're also not afraid to be a little bit different. For instance to tie in with this huge year of sport in the UK, we've launched a youth football team sponsorship program called Host Your Kit which has introduced the brand to a whole new audience.

HOSTSEARCH: What can we expect from iomart Hosting in the future? What is your short-term goal?

PHIL WORMS: We will continue to concentrate on our core UK market, building and consolidating on our position as one of the leading players in the cloud arena. Cloud computing offers us a huge opportunity and whilst it might have passed the early adopter stage it is still an embryonic market. We see plenty of potential for us in this space over the coming years. And of course we have made no secret of the fact that we expect to make a few more acquisitions over the next year, which will only aid our growth and profitability further.

We will continue to invest heavily in both our network and data centre operations. I believe that there are two areas that are set to dominate the hosting agenda for years to come. One is Big Data, particularly unconstructed data from social media and the like, and how businesses will manage it and the second is connectivity in which we're investing heavily. We're already ahead of the field in terms of our data storage, backup and archiving capabilities and will be working hard to ensure that this message gets out to the market.

Services delivered to and from the cloud will only be as good as the size of the pipes connecting the end user to them. We will therefore be broadening our network products and services portfolio.

I started my iomart career marketing broadband (xDSL) services at 512k, on the premise that you could instantly access all the benefits that the web offered and now a little over decade later I've come full circle, only this time the pipe size is 20Gb plus!



HOSTSEARCH: We look forward to seeing your success. Thanks again for giving us an opportunity to talk with you today!

PHIL WORMS: Thank you - it's been a pleasure!