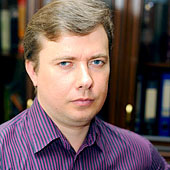 Alexander, CEO of MyIdealHost
HostSearch interviewed Alexander, CEO of MyIdealHost - a leading high performance web hosting provider since 2003.
HOSTSEARCH: Could you please briefly tell us about yourself and your role at MyIdealHost?

ALEXANDER: In 2000 I've Graduated from Technical University specializing in programing. But I was more interested in the Internet work and Linux based web servers administration.

That's why I was working for a local web hosting provider and three years later (in 2003) together with Dmitriy Melnik we have started our own business in provision of outsourcing technical support and server administration to American companies.

We played a great role in growing of Midphase and Justhost during the first years after their establishing. Both are huge and well known web hosts now. Among our customers there were some other famous companies working in web hosting industry.

We have also started our own project – MyIdelHost.com - simultaneously with outsourcing work.

Starting from 2012 we decided to concentrate on our own project with the aim to surpass main hosting providers on the market in the amount and quality of provided services till our company's 10th anniversary which we celebrate in 2013.


HOSTSEARCH: Could you please share with us when was MyIdealHost found? How did the company get started?

ALEXANDER: MyIdealhost was found in 2003 as a support oriented company. First we worked with large American web hosting companies providing tech support to their customers, then we decided that our experience and large knowledge base in this area could be used to develop own web hosting products, so Myidealhost came in the new phase of its development and became shared and reseller web hosting provider.

HOSTSEARCH: MyIdealHost has been around since 2003 in this very competitive industry. What would you consider as your main strengths to compete with others?

ALEXANDER: As I've said, we started as tech support provider, so good customer support remains our main aim. Besides we have rather competitive prices, that together with high quality services and good support result in high customers' satisfaction.

HOSTSEARCH: Could you give us an overview of MyIdealHost's services?

ALEXANDER: MyIdealHost provides affordable shared and reseller web hosting based on Linux platform. Shared hosting includes two plans for starting and advanced users, but both include free domain registration, unlimited disk space and bandwidth, unlimited email accounts and hosted domains, easy in use control panel, numerous sitebuilding tools, website statistics, basic assistance in SEO (searc4.8h engine submission and free google adwords).

Myidealhost provides 5 Reseller packages that can be used either by experienced web designers to host their projects or by those who wants to benefit from reselling web hosting products.

Main features:

- cPanel control panel

- unlimited hosted domains

- unlimited email accounts

- MySql, CGI, Perl, Python

- 200+ pre-installed scripts

Starting Price is $4.85/mo when ordering for 2 years


HOSTSEARCH: Can you please tell us more about the data center and where they are located?

ALEXANDER: MyIdealHost cooperates with Singlehop in developing reliable and stable servers. Our servers are located in the USA, Chicago in one of the modern Singlehop data centers.

HOSTSEARCH: What level of support do you provide? How do you achieve customer satisfactions? What's your secret for making your customers choosing your services and staying with you?

ALEXANDER: We provide three level tech support that allows to resolve customers issues within the shortest time period, so our average response time doesn't exceed half an hour. Our support team is available 24/7 per mail, phone and live chat.

As for secrets, actually we do not have any, we just try to do our best for our customers and provide them with the best quality services, that's all.


HOSTSEARCH: As CEO, what is the most important attribute that you bring to the company?

ALEXANDER: I think that our main achievements are qualified professional staff and friendly relationships in out team. It allows us to have the best quality of services we provide our customers with.

HOSTSEARCH: How do you promote your business?

ALEXANDER: We did just minor investments into advertising of MyIdealHost, it is promoted only because of high quality service we provide to our customers. They are happy to recommend our company to their relatives and friends.

We also try to be closer to our current and future customers so we have a facebook page, google + and twitter accounts where we try to post articles and add links that can be useful for them.


HOSTSEARCH: Do you plan for any new products or services in the coming year?

ALEXANDER: Actually, yes. We have started active cooperation with some data centers of USA and Germany to build our own Cloud System. By early autumn we plan to provide full value Cloud Hosting and Virtual Servers for customers who need special services. But that doesn't mean that we will abandon shared hosting, on the contrary, our clients will see new addons to hosting packages and new prices.


HOSTSEARCH: Thank you so much!! It's great to talk to you.

ALEXANDER: Thank you! I was glad to share the information about our company!