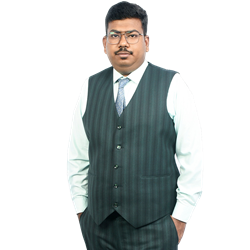 Akshay Saini, CEO at Serverwala
HostSearch interviewed Akshay Saini, CEO of Serverwala - a leading high-performance web hosting provider.
HOSTSEARCH: Akshay thank you for giving us an opportunity to talk with you today. Can you please tell us about your background?

AKSHAY SAINI: I am Akshay Saini, the founder, and CEO of Serverwala Cloud Data Centers. I completed my education at Delhi University and went to Dubai to pursue my career in the data field. After getting good exposure on my career front in Dubai, I founded Serverwala, my own data center company, in 2015. My wide experience of over seven years in dealing with data center-related issues helped me establish this company along with Hostbillo, a web hosting company. I started this company with the intention of providing top-notch web-hosting services at competitive pricing. I believe in constant learning and hard work to attain the target.

HOSTSEARCH: Can you please tell us more about the company?

AKSHAY SAINI: Serverwala, the industry-leading data center, came into existence in 2015. Since then, it is making businesses establish their identity online successfully. We offer a range of services like VPS, dedicated, GPU, private & public cloud, cluster, bulk mail server, along with colocation. With its head office in Jaipur and its branches in Surat, Nashik, Mumbai, and Dubai, Serverwala has partnered with numerous data centers across the globe. Our sole mission is to deliver the most promising data center solutions worldwide under considerably affordable pricing while providing seamless customer support services. With over 50 teammates, we employ our skills, proficiency, and resources to consistently upgrade server technology as well as to help people succeed in running their digital presence smoothly and easily.

HOSTSEARCH: Can you please share with us an overview of your products and services?

AKSHAY SAINI:

Products
Services
● Cloud Computing Stack
● Private Cloud
● Public Cloud
● Hybrid Cloud
● CDN Solution
● Bare Metal as a service
● Dedicated Server
● GPU Server
● Streaming Server
● Storage Servers
● SERVER CLUSTERS
● Colocation as a Service
● 90 + Edge Colocation Availability
● Shared Space
● Rack Colocation
● Cage Colocation
● IP Address Marketplace
● IP Leasing
● IP reputation
● IP Monetization
● IP Geolocation
● DNS Management
● Abuse Management
● LOA and ROA
● Latest Gen Server Hardware
● Ready To Use Solution
● Backup As a Service
● Virtual Meeting Solution
● Desktop As A Service
● Learning Management System
● 99.90% SLA Uptime
● 50+ Management Team
● 10 Gbps To 100 Gbps Network Port.
● Multi-Layer Data Security
● Flexible & Scalable Environment
● Ultra Low Latency
● 24/7 Support System
● Hyper Scalability
● Redundant Connectivity
● Secure, Reliable & Agile Infrastructure
● Uninterrupted Stable Power
● Quick Support Availability With 20 + Server Experts
● Latest Generation Hardware Availability
● Customized Hardware As Per Client Necessity
● Pay Addon IP Cost Only One Time in a Year
● Billing Adjustments according to the client's request

HOSTSEARCH: I noticed you mentions about Latest Gen Server Technology. Can you tell us more about it?

AKSHAY SAINI: Serverwala indeed uses the latest gen server technology. We don't believe in using outdated technology to run our bare-metal servers. Our team of experts keeps a keen eye on such updates and swiftly aligns our servers with them as and when the updates arrive in the market. This proactiveness helps us facilitate top-notch performance for our clients.

HOSTSEARCH: Can you please explain the Powerful GPU Dedicated Server? What are the advantages to the customers using this service?

AKSHAY SAINI: GPU-powered dedicated servers run graphic-intensive or high-quality media applications without any glitches. A GPU-dedicated server enables the best user experience for high-traffic websites. Deploying hefty 3D software is significantly easier with a GPU-dedicated server. We have combined our competitive single-tenant servers with Nvidia GTX 1080, Nvidia GTX 1080Ti, and Nvidia RTX A5000.
A GPU-dedicated server has a plethora of benefits for the user; some of them are listed below.
1. Robust and smart client support.
2. Complete control over the server.
3. Easy and flexible server configuration.
4. Instant provisioning for smooth functioning.
5. Better user experience with high-performing servers.
6. Good storage space for rich media applications and data.
7. Supports automated network monitoring to control any unforeseen threat.


HOSTSEARCH: Can you tell us more about the company's data centers?

AKSHAY SAINI: Serverwala has partnered with 40+ data centers across the globe to deliver you the best data center services. Our clients get the freedom to choose the data center location as per their requirements. We make sure that the data center facility we have partnered with is world-class because the security of the client's data is our utmost priority.

HOSTSEARCH: What is the Server Clustering? How does it work?


AKSHAY SAINI: A server cluster is formed when a bunch of servers work on a single IP address. This type of service is used to reduce downtime and enhance performance.
Each server has its own web resources like RAM, disk storage, etc. This separation of web resources is very useful when there is a sudden downtime. The resources of other working servers are used in such a situation, and the user doesn't experience a slowdown due to this practice.



HOSTSEARCH: What is the benefit to the users who are using your Dedicated Server? How do others?

AKSHAY SAINI: Serverwala's dedicated server users get overwhelming benefits. First of all, we make sure we are reachable to our clients day and night. Now I insist you check out the list of benefits below.

1. Our data centers have a global presence which aids the freedom of our clients in choosing the best data center location.
2. The pricing of our dedicated server is pretty competitive, and it's the same with each of our services.
3. Robust client support to handle any technical issue related to the server.
4. We use the latest gen technology to host our dedicated servers.

At Serverwala, we believe in keeping complete transparency. Our words align with our actions.


HOSTSEARCH: Some of the things that matter most when it comes to web hosting is reliability and performance. How do you ensure the best uptime and speed to your customers?

AKSHAY SAINI: A clear and honest SLA lays the backdrop of our hosting services. We have clearly mentioned the gold-standard uptime, i.e., a 99.90% uptime guarantee for our clients. Serverwala has an automated server monitoring system that protects our client's websites from any cyber threat. Our company ensures swift client support to tackle any glitch so that our client doesn't feel left out. This approach results in quick resolution of issues. As far as the speed of the server is concerned, we facilitate a 100% bandwidth guarantee to our clients. Serverwala knows the importance of uptime and speed and thus works day and night to offer the best hosting service.

HOSTSEARCH: That's all for my questions. Thank you again for your time, would you like to add anything to this interview?

AKSHAY SAINI: I would love to say that if you have a passion, make sure you follow it, not just for yourself but for the people around you. Data, web hosting, technology, etc., were all my passion, and I ensured I achieved something big through them. Keep trying harder every day, even if you face failure, because failure is also a part of success. This digital era that we have been witnessing for some time has a plethora of opportunities for each one of us. You must do something out of your way to shine among the crowd.