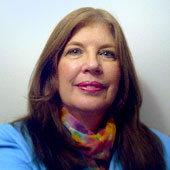 Jean Hendricks, Web Hosting Product Manager at AT&T
HostSearch interviewed Jean Hendricks, Web Hosting Product Manager for AT&T, a leading high performance web hosting provider.
HOSTSEARCH: Hi there, thank you for giving us an opportunity to talk with you today. Can you please introduce yourself and let us know your role at AT&T?

JEAN HENDRICKS: Hello, I'm Jean Hendricks, Web Hosting Product Marketing Manager for AT&T. I work with my colleagues to create effective small business website solutions services, products and offers. I also support our Web Hosting website, adding content and analyzing the site to see what's working and what's not for our customers.

HOSTSEARCH: As AT&T offers variety of products and services. What are the main products and services of the company?

JEAN HENDRICKS: We serve more than 3 million small business customers nationwide with a broad portfolio of communications services, including wireless voice and data, mobile applications, high speed Internet, tech support, website hosting and design, data backup and wired voice. We offer access to one of the world's most advanced IP networks through the convergence of voice, data and video services.

HOSTSEARCH: As AT&T Website Solutions offers variety of products and business tools. Can you provide some insight on your main products and tools?

JEAN HENDRICKS: We offer two design options for website creation. Our Website plans are self design options for customers who have time and would like to manage their own websites. Our Build It For Me plans provide services from a professional website designer who will assist the customer in creating its website; those plans also provide with monthly maintenance. We also offer a variety of business tools that are complementary to our web hosting products, including, email marketing, online fax and mobile website solutions.

HOSTSEARCH: What is the benefit to the users who are using your Mobile Website Hosting services? How do you distinguish yourself from others?

JEAN HENDRICKS: The AT&T Mobile Website product provides a way for our customers to expand their online presence. Features include click-to-call and click-to-map functionality. Use QR Codes for mobile marketing. Track your results with web reports. Expanded accessibility online creates the potential for increased revenue, a key benefit for small businesses. Our Mobile Website solution enables small businesses to build their websites quickly using our wizard tool. In addition, using our mobile website tool, they can successfully convert regular websites into mobile websites in a few easy steps. No technical expertise is required but if you have any concerns or need help at anytime, we provide 24x7 technical support. With more and more smartphone users accessing the Internet to research and purchase product and services, it's becoming increasingly vital for small businesses to develop a strong mobile web presence

HOSTSEARCH: In your opinion, what are the most important things to look for in a web hosting company?

JEAN HENDRICKS: There are a couple of key components in choosing a web hosting company. The first is how long the hosting company has been in business. You want to determine if the web hosting company has longevity so your website will also enjoy a long online existence. Second, you should know if the web hosting company is providing new products, services and tools to keep your website current. It's up to the web hosting provider to determine that the hosting products are compatible and current.

HOSTSEARCH: We are looking forward to see your success. Thanks again for giving us an opportunity to talk with you today!

JEAN HENDRICKS: Thank you for providing me with the opportunity to share information about our AT&T Web Hosting solutions with your readers.