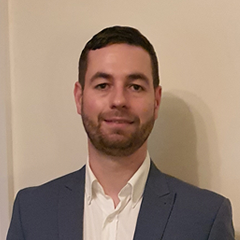 Robert King, Founder and Managing Director at eUKhost
HostSearch interviewed Robert King, Founder and Managing Director at eUKhost - one of UK's leading web hosting providers.
HOSTSEARCH: Hi Robert, thank you for giving us the opportunity to talk with you again. The last time HostSearch has interviewed you was in 2016, could you please tell us what have changed since then?

ROBERT KING:

As the market consolidated and providers became billion $ enterprises, at

eUKhost

we knew that to remain an independently owned web infrastructure, hosting and domain provider we needed to maintain our service level to that of which is above and beyond competition, we did this by achieving our goal of 'Excellent' rated reviews across external websites, backed by live chat support available around the clock, with live chat support aim of being answered on average within 60 seconds, I am very proud to say we broke aim in the year 2022 by averaging just 36 seconds, this year we've ambitiously set a target of 30 seconds.

Secondly we had to employee great people to enable us to follow best industry practices, which include:

- ISO 27001 Certification

- Cyber essentials plus certified

- GDPR and legal compliance

We want to lead the way in the

web hosting sustainability

, by not just offsetting our carbon use but becoming carbon positive, in order to achieve this we ensured data centers are ISO 50001 accredited and compliant backed by Sreamlined Energy and Carbon Reporting (SECR) regulations, we also participate in the Energy Saving Opportunities Scheme (ESOS). We aim to plant over 1 billion trees across the world with our partners by year end 2024.

HOSTSEARCH: Could you give us an overview of eUKhost's products?

ROBERT KING:

With more then 35,000 customers across 120 countries, we needed to become a one-stop-shop for website hosting, infrastructure and domains, including bespoke enterprise solutions for security to redundancy, by introducing automated tools such as:

- Search engine optimisation for automated and suggestion reporting.

- Personal email certificates to help prevent emailing phishing.

- Acronis Cloud backup solution to enable fully automated device backup management across multiple data centers.

- Imunify 360 security tools to give real time security protection, from virus, malware and software protection.

We introduced

Hyperslice® Cloud

and

VPS web hosting

platform, this state of the art platform which had significant investment in time and money, spending over 2 years of vigorous testing and development allows for not just speed in applications but uses the very latest in hardware capabilities to make sure it can challenge the larger cloud providers, with instant provisioning, snapshots and scalability it is our most advanced platform to date.

HOSTSEARCH: We noticed eUKhost provides eco-friendly web hosting. Can you tell us about how eUKhost has gone green?

ROBERT KING: We are a strong advocate for sustainability and believe technology can lead the way, we are working hard to ensure.

At eukhost, we are fully committed to becoming a more sustainable company and to doing so at pace. We aim to be carbon positive by the end of 2024 and in order to achieve this we have already set the foundations.
- ISO 14001 certified data centres
- ISO 50001 accredited and compliant
- SECR, ESOS & REGO compliance
- Teams Working More Sustainably
- Carbon Offsetting
- Choosing only suppliers who are like minded in sustainability
- Planting over 1 billion trees by 2024

We fully supports the United Nations' 17 Sustainable Development Goals (SDGs) and we work to align our operations with them at both local and national levels.

Ultimately, eukhost's aim is for our business to cause no harm to the environment. We are committed to eliminating CO2 emissions, pollution and waste in the future and to offsetting our entire historical carbon footprint.


HOSTSEARCH: What is the Acronis Cyber Protect Backup? What is the special about it?

ROBERT KING: Acronis Cyber Protect Backup

is a platform that enables us to deliver a complete backup and disaster recovery service in an easy, efficient and secure way to our customers. With this solution, our customers are able to protect their data from ransomware attack, malware, corruption, and accidental loss by backing up securely to the Acronis Cloud. Backups are encrypted as standard during transmission and use military-grade encryption protocols. With an option to encrypt data even at rest, Acronis Backup is equipped to provide total, end-to-end security.

The one distinguishing feature of Acronis Backup is that it offers one agent, one management interface, and one license to help users manage and monitor all devices under protection effortlessly. Furthermore, easy compatibility with popular operating systems like Linux, Windows, and macOS, along with other 20+ platforms is a huge plus, it does not matter if the services are hosted locally, or any other provider, with Acronis Cyber Protect backup, all can be backed up seamlessly and accessed using our customer portal.

HOSTSEARCH: What are the benefits of ordering your SSL certificate?

ROBERT KING: Websites require SSL certificates to protect user data, confirm the site's ownership, stop hackers from building a false version of the site, and inspire trust in visitors.

To ensure that the data is secure, an SSL certificate should be obtained.

eUKhost offers an SSL certificate that comes with 256-bit encryption and 2048 root, no-added-cost setup, testing, and installation, and not included in free SSLs we also provide installation and around the clock customer support.

Additionally, what is not provided with free SSL is warranty, we are able to provide warranty of up to $1,500,000. This warranty covers any financial loss you may face if the SSL encryption were to be broken.



HOSTSEARCH: What is the Imunify360? How does it works?

ROBERT KING: Imunify360 is a 6-layer security system powered by artificial intelligence (AI) it protects servers from harmful threats. It is able to defend against threats as they try and enter your system or infrastructure.

Imunify360 employs a multi-layer strategy to safeguard users from harmful assaults and odd behavior, including brute-force attacks. Imunify is made up of various security tools, which include not just malware and threat protection, but also Web Application Firewall, Intrusion Detection System, IPS/IDS, Antivirus+, Kernel Live-Patching and Hardened PHP.

By creating a strong barrier around websites Imunify is able to help keep hackers at bay and to eradicate potential threats by performing regular scans to identify, notify and patch vulnerabilities.


HOSTSEARCH: Can you tell us more about the company's data centers?

ROBERT KING: We use a number of data centre facilities across the UK and should any customer required outside of UK we have partnered with a number of providers across the world.

Our UK data centers are located in Wakefield, York, Nottingham and Maidenhead. Together, they provide us with a high degree of resilience, performance and security.

When it comes to security, all our data centres are independently audited to ISO27001 standard, have 24/7 security and are protected from both physical and electronic intrusion at all times.

As for availability, these data centres are built around the N + 1 principle, meaning all crucial systems, including networking, cooling, and electricity, have at least one redundant backup system and, in many cases, more then 1. These work together to offer a very high resilience to failure.


HOSTSEARCH: As the Founder and Managing Director at eUKhost, how do you see the European hosting market growing in the near future?

ROBERT KING: The web hosting industry has been consistently growing, with digital transitions growing even faster during the pandemic, consolidating the speed of transition into months rather then years.

Businesses across the world are using the power of digitalisation to enable their growth, they no longer see the need to hire experts and maintain their own expensive infrastructure, by shifting to providers such as ourselves we can provide the expertise that allows them to concentrate on their business.

The industry needs customer care, something the hyper-scalers are unable to offer, which can be extremely frustrating for the customer if things go wrong. By providing the level of customer care a business should expect, they can be assured their digital requirements are in capable hands allowing their focus on their product or service, giving them peace of mind and scalability.

Providers must take notice of environmental impacts, as a energy heavy industry it should be a given. As seen across Europe in summer 2022 and in the UK when record temperatures, this shut down some providers due to overheating and fire risks, we were fortunate that we had prior vision of sustainability and choose providers with that vision, but as it has now had a direct impact on hyper-scalers one would hope it becomes their focal point.


HOSTSEARCH: Is there anything you would like to share with our visitors who are looking for a hosting company in Europe?

ROBERT KING: There has never been a better time to reach a world-wide audience instantaneously for such low cost, whether it be a blog sharing content to like minded people, a business needing to sell products or a influencer wanting to generate income without the platforms taking a cut from their revenue stream, the world can be your oyster and the internet is the pearl.

HOSTSEARCH: Well, thank you very much for your time today. We look forward to see your success!

ROBERT KING:

Thank you very much asking me to share my ideas and thoughts, it has been a privilege to share those with you. I am always open to ideas and criticism and welcome your readership to tweet or

contact eUKhost

, I am more then happy to respond, thanks again and wishing HostSearch and its readership the very best for the future, cheers.