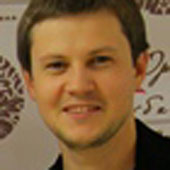 Max Emelianov, CEO of HostForWeb
HostSearch interviewed Max Emelianov, CEO of HostForWeb - Chicago's premier web hosting provider offering shared hosting, VPS, and dedicated servers with cloud services just about to launch.
HOSTSEARCH: Max - thanks for spending time with us today. It would be great if you could give our visitors insight about yourself and your role in the company.

MAX EMELIANOV : Thanks for having me and giving me the opportunity to discuss HostForWeb.

The job of the CEO is to create a vision for the company, and take the steps needed to make it a reality. At HostForWeb, that vision is to give our hosting customers the best that technology has to offer, while allowing them access to the support and expertise they need to run that technology. As CEO, I support these goals each and every day. One important part of that is creating the policies that benefit our customers. I also understand that I can't do this alone, which is why I've focused on putting together a great team that helps to carry our vision through.


HOSTSEARCH: Could you please share with us when HostForWeb was founded? How did the company get started?

MAX EMELIANOV : HostForWeb was started in the fall of 2001 with the idea to provide reliable hosting solutions paired with excellent customer service. Before starting HostForWeb, I spent a number of years working as part of a larger team for a VOIP start up.

We grew so quickly within the first few months that we needed to upgrade to a dedicated server platform. From there, we got to the point where we needed to collocate our servers with nLayer in their Chicago data center, so that we had the flexibility to keep on growing with market demand. Currently, we host over 2 million domains and are adding more every day. It's been a fantastic journey and we are so thrilled about the success we've enjoyed.


HOSTSEARCH: Which products and services does HostForWeb focus on the most?

MAX EMELIANOV : HostForWeb offers a wide variety of hosting solutions including traditional shared web hosting, traditional virtual private servers, an extensive range of dedicated server platforms and cloud hosting, which is our latest offering.

We do concentrate on managed VPS servers, which are currently our most popular hosting solution. Our VPS customers get a custom tuned Linux VPS server that is ready to go, backed by our 24/7 support team. They enjoy the power of running their own server, but don't have to fuss with its maintenance and deployment. They can focus on what's most important – their business!

Since 2011, the HostForWeb team has been developing our newest product which is just about ready to go - Managed Cloud Servers. We're always looking to offer our customers cutting edge technology, so we're excited about getting HostForWeb in the cloud.


HOSTSEARCH: Please define your marketing strategies. What do you think HostForWeb's greatest strength is in comparison to your major competitors?

MAX EMELIANOV : We have a three tiered approach to staying competitive in the hosting space. First is the quality of our support – we know that the only way we can enjoy success is by offering our customers access to expert help anytime they need it, day or night. Second, we wouldn't be where we are today without our state of the art infrastructure. When it comes to the quality of our technology, we make absolutely no compromises. And finally, we offer our customers a unique array of tools, such as support desk, billing system and chat software, which allows them to run their businesses more efficiently.

HOSTSEARCH: What has been the key to your success in keeping HostForWeb's services on the leading edge?

MAX EMELIANOV : We spend an enormous amount of time and resources on developing and testing new technologies. Every piece of technology we have, we push it to the limit. What we learn we pass on to our customers – they benefit by getting a better solution that is based on real world experience.

HOSTSEARCH: Do you think the size of a web hosting company is important for people looking into hosting services?

MAX EMELIANOV : That's a great question. Sometimes with really big providers, customers can get lost in the shuffle and not get the personalized attention they need. As our organization has grown larger and larger, we've kept the small company feel in how we deal with our customers. When choosing a hosting provider, people should focus on the quality of the technology and the quality of the service they will get – it's these factors that ultimately will dictate a positive customer experience or not.

HOSTSEARCH: From reading through your customer testimonials, I can see that they are very happy with your services and products. Can you tell us your secret for becoming so successful?

MAX EMELIANOV : We invest a lot of time into our staff. We have developed an internal training system that is built around our service offerings – our staff is constantly being given the tools and training they need to give our customers the best service possible. They know our technology and our products inside and out. We also have a very thorough quality assurance process – the important feedback that we get from our customers is passed back on to our support staff so that we can always continue learning and improving.

HOSTSEARCH: Please let us know more about HostForWeb's data center in Chicago.

MAX EMELIANOV : Our servers are located in the DuPont Fabros Technology facility in Chicago – it truly is one of the Midwest's most sophisticated and efficient data centers. You can find more information about it here: http://www.dft.com/themes/dft/images/data_centers/DFT_brochure_ch1.pdf

Our IP transit is provided by nLayer - their OC-192/10GbE based Global IP Network is built upon carrier-class routing infrastructure from Juniper Networks, the foremost provider of next-generation IP backbone products. nLayer is one of only a handful of networks that have deployed an all Juniper core infrastructure. This allows us to provide unparalleled stability, low-latency forwarding, QoS, and IP packet filtering, without compromising performance in any way.


HOSTSEARCH: Where do you think the web hosting business will be in the next five years? And how do you see yourself and your company in the next five years?

MAX EMELIANOV : In one word: Cloud! In terms of HostForWeb, we're in a great position to take advantage of the cloud market. We have deployed a high end SAN from HITACHI that is capable of providing maximum 200,000 IOPS performance with up to 20Gbps in throughput. In a cloud environment, it all comes down to the quality of the SAN, which is why we have deployed an enterprise level SAN for our cloud customers. The HITACHI SAN System that we chose won a number of awards, including Storage Magazine's Gold Award, for its top level performance.

In conjunction with our high end SAN, we have leveraged OnApp cloud technology to build a fast, scalable and easy to use cloud solution that stands ahead of our competition in a number of important ways: the high end SAN/powerful HyperVisors, top notch network and highly trained support engineers.

We expect this new part of our business to grow rapidly.


HOSTSEARCH: Thank you so much, Max. It has been our pleasure interviewing you!

MAX EMELIANOV : The pleasure is mine! Thanks for your time.