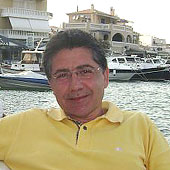 Lorenzo Sordini, Vice President at NetShop Internet Services
We are talking with Lorenzo Sordini, Vice Presindent at NetShop Internet Services, one of the fastest growing providers in Europe.
HOSTSEARCH: Lorenzo, thank you for giving us an opportunity to talk with you today. Can you please introduce yourself to our visitors?

LORENZO: First of all I would like to thank you for the interview invitation. I am the Chief Financial Officer and Vice President at NetShop Internet Services Ltd. Although I am not a "tech" guy, my involvement at NetShop since 2004 in key areas and decisions makes me confident to attend this interview and introduce the readers to the services that NetShop provides. Although we operate in both the Web Development and Web Hosting industries, allow me to focus in the Web Hosting part of the business in this interview.

HOSTSEARCH: What are the main products and services of the company?

LORENZO: We are offering all types of web hosting, starting from Shared, VPS and Cloud Hosting to Dedicated Servers and Collocation Services. All can offered via our three datacenters in Cyprus, United Kingdom and a brand new one in Malta. We are also offering our customers addons for their web hosting products such as Remote Backup Solutions, SSL Certificates and Domains Registration.

HOSTSEARCH: I noticed that you are offering more Domain TLDs than just the .CY one.

LORENZO: Yes, since 2004 we are offering .CY Domains Registration and in 2007 we started offering Generic Domain Names (.com, .net, .org, .info). Since July 2012 NetShop has become an Accredited Domain Registrar in more than 100 countries. This has given us the opportunity and advantage to offer more than 300 Domain TLDs to our customers, including European, Asia-Pacific, American and African domain name extensions.

HOSTSEARCH: There are many domain registrars and resellers out there; what makes NetShop stand out in the industry?

LORENZO: Indeed, the number of web hosting companies offering Domain Names Registration is huge! NetShop ISP, as a Cyprus-based company, offers .CY TLD registration since 2004. Whilst this has never been our core product, we realized that customers who had a shared or dedicated server with us preferred to have their domains registered at NetShop, basically for consolidation purposes.

HOSTSEARCH: I noticed your servers are housed in data centres in Cyprus, Malta and UK. Can you please tell us more about that?

LORENZO: This is one of the key reasons why someone to choose NetShop for server hosting. Through our datacenters in Cyprus, Malta and United Kingdom we have the scalability and flexibility to accommodate web hosting services for any kind of business in any industry.

HOSTSEARCH: What are the key factors for consumers to select the web hosting services in Cyprus? Any differences from other parts in Europe?

LORENZO: Cyprus is an island country in the Eastern Mediterranean Sea. Most of the inquiries that we receive for a Cyprus-based web hosting are from offshore companies that want to establish a business presence in Cyprus for legislation and taxing purposes. Additionally, VPS and Dedicated Server hosting in Cyprus is quite popular mainly for those who are seeking for a "networking tunnel" between Asia and Europe.

HOSTSEARCH: Is there anything you would like to share with our visitors? Maybe they are looking for a host in Cyprus or in Europe.

LORENZO: As I previously mentioned, flexibility is one of our key features. We have a very experienced team of sales and technical staff that can recommend and build servers and networking solutions based on the customers' bespoke requirements. I have to admit that there were times when our legal advisors were called to assist our customers in choosing the most appropriate data center location due to the nature and industry of the client's business.

HOSTSEARCH: Thank you for a wonderful talk. We hope to see your success in the coming years.

LORENZO: The pleasure is ours. Thank you very much for this opportunity. By the chance given, I would like to wish everyone a wonderful 2013 with health and happiness!