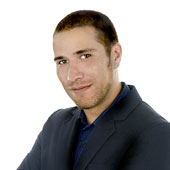 Yan Desjardins, Affiliate Program Manager at SherWeb
HostSearch interviewed Yan Desjardins, Affiliate Program Manager at SherWeb, one of the most renowned and respected worldwide hosted services leaders in the cloud industry.
HOSTSEARCH: Thanks for giving us this interview - we appreciate it. Could you tell us about yourself and your role in SherWeb?

YAN DESJARDINS: Hello! My name is Yan Desjardins. As the Affiliate Manager of SherWeb, I am here to ensure the sustainable business development of our affiliate channel. I'm bringing a decade of online marketing experience to the table. My role is to make sure that SherWeb offers all the tools and the proper support to our affiliate in order for them to succeed and take advantage of the SaaS billion-dollar industry.

HOSTSEARCH: What kind of services does SherWeb offer to the customers?

YAN DESJARDINS: SherWeb's core product is Hosted Exchange. We also offer other collaboration tools such as Microsoft OCS and SharePoint Foundation 2010. On the hosting side, we offer Web Hosting plans and VPS services.

HOSTSEARCH: What kinds of partnerships are available to your resellers?

YAN DESJARDINS: SherWeb currently presents two partnership options:

1) Our reseller program allows you to build your own white-label business backed by our top-of-the-line infrastructure and dedicated support. You sign-up your clients, bill them, and provide first-level support. In a nutshell, we run the service, you own the client.

2) Our affiliate program, powered through cj.com, allows webmasters from around the world to drive traffic towards our site in exchange for money. Our highly optimized landing page and aggressive offers make SherWeb a partner of choice for any site owner.


HOSTSEARCH: Tell us a little about your affiliate program - how does it operate?

YAN DESJARDINS: SherWeb's Affiliate Program provides you with the opportunity to make money by referring customers to our Hosted Exchange 2010, SharePoint 2010 Hosting and Linux VPS hosting services. With SherWeb, it's an easy equation: you get a 100% payout on the first month's value of the sale. If a customer signs up for one Hosted Exchange mailbox, we pay $7.95. If they sign up for 10 mailboxes, we pay $79.50 and so on...

HOSTSEARCH: Can you please tell us more about the data center?

YAN DESJARDINS: When you connect to your SherWeb account, you step into one of the industry's most advanced architecture. Our infrastructure is based on a reliable and scalable Fortune 500-grade platform using best-of-breed equipment such as Cisco, Dell and EMC. We provide a stable, secure, reliable, and rapidly recoverable messaging environment that powers more than 20,000 businesses worldwide.

HOSTSEARCH: How does your company fit into the web hosting industry? What makes you different?

YAN DESJARDINS: Our Expertise
With SherWeb, you benefit from the expertise of a team that manages thousands of clients and their specific requirements on a daily basis. Since 1998, we have managed to continuously provide our customers with the industry's finest solutions. SherWeb's track record clearly shows our commitment to customer satisfaction.

Our Reliability
For mission-critical applications, uptime is key. With SherWeb, you benefit from an infrastructure built from the ground up to provide redundancy and maximum availability. We provide a stable, secure, reliable, and rapidly recoverable environment.

Our Support
With SherWeb, you benefit from the commitment of a team that is devoted to providing you with a personalized, fast, and reliable 24/7 live technical support. Clients over and over again testify about the exceptional quality of our support.

Our Commitment
Since 1998, we have focused exclusively on hosting services and have developed an unmatched expertise. Our business depends on you being happy with your hosting, so we work hard to achieve this. We are as proud to serve 5-users businesses as organizations with thousands of users. Whatever your business requirements, you can count on SherWeb.

Our Agility
With SherWeb, you benefit from the thoughtfulness of a certified team showing an unmatched ability to innovate and present fitted solutions to just about any problems. The software-as-a-service model allows us to provide highly scalable solutions that can be easily adapted to your specific needs and adjusted to your organization's growth.



HOSTSEARCH: Can you please describe your customer support services?

YAN DESJARDINS: At SherWeb, we take customer support very seriously. Nowhere in the industry will you find such reliable and personalized technical assistance. We offer 24/7 live phone, email, and chat support with certified technicians.

SherWeb does not outsource support. Our staff works here, in our headquarters. We provide them with an exciting workplace, excellent working conditions, and continuous professional development. Through certifications and trainings, we maintain the highest standards of service. Any issue you may encounter is for us just another mean of demonstrating our know-how and dedication to support.


HOSTSEARCH: Do you have any other changes or additions to your service this year?

YAN DESJARDINS: We recently launch our Affiliate Program and fully revamped our Reseller offering. We are also planning on releasing two new services by the beginning of 2012.

HOSTSEARCH: That's all for my questions. Thanks again for your time, is there anything you would like to add in this interview?

YAN DESJARDINS: It was a pleasure to do this brief interview with HostSearch.